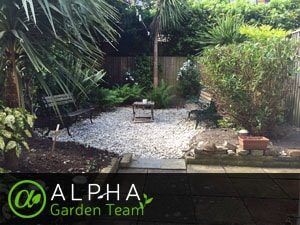 A great-looking garden is not just mere eye-candy that adds extra value to your property – it also gives you a place where you can escape from the hurried pace of modern life. Catering to tenants, landlords, and estate agents alike, we offer a wide range of professional services to help you regain or retain your yard's presentable look. The experts at Alpha Garden Team are polite, experienced, and will follow your instructions to the very end to ensure that the results match your vision. To check what we can do for you, please take a look at our list below:
Garden maintenance;
Tree surgery and repair;
Lawn mowing and care;
Path and driveway clearance;
Clean up;
Gutter cleaning;
Landscaping.
How Is Alpha Garden Team's Work Different?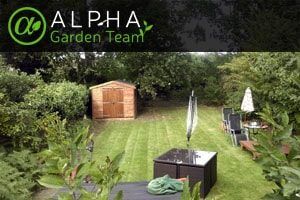 It's not a matter of what we do – it's a matter of what you want. Whether it's pruning shrubs and trees, pulling weeds, repairing fences, or laying down custom-made patios, the professionals will always work long and hard to ensure that your garden is as healthy and captivating as it can get. We also offer a number of convenient benefits, such as:
All equipment is delivered as part of the service;
Certified, insured, and knowledgeable specialists;
Significant discounts when you mix & match any of our services;
Free and personalised tips on how to best maintain your garden;
Bookings can be arranged for workdays, weekends, and bank holidays;
Same-day appointments and 24/7 customer service are available;
You don't have to be at home – simply provide us with property access.
Who Are the People Behind Alpha Garden Team?
More than 3 years ago, we've started this company with a single goal – to create gardens that soothe the eye and inspire the mind. Since then, we have re-shaped the yards of many households in the area and have received overwhelmingly positive feedback as a result. We always send two qualified gardeners to get the job done faster and better, deliver all equipment for the service on-site, offer affordable hourly-based prices. We'd do anything else to provide a satisfying experience for our customers. But we believe that it is our great attention to the job and to the customers themselves that really makes us the professional gardening company in Bristol we are today.
But how do we perform the services? For everyone's convenience, we broke every single service down into several easy-to-follow steps:
Give us a call to get a quotation, and arrange the day and time for your visit.
You welcome the gardeners from Bristol on-site and let them have a look at your green space.
In case you are away, you need to provide us with property access ahead of time.
When the team completes the inspection, they will share their thoughts and consult with you to learn what you want them to do and to receive additional instructions if any.
Once the specialists arrange all service details they will start working, following your personal requirements.
Book Our Gardening Services Today And We'll Tidy Up Your Yard in a Day!
Get no-obligation surveys, free price estimates, and schedule appointments for any of our services with one quick call on 01172 420001. Our phone lines are open day in and day out, so our friendly advisers will always have the time to answer all your questions and help you manage your bookings. Alternatively, you can also fill in our request a quote form.