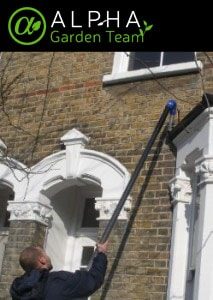 The experienced gutter unblocking technicians can give any homeowner, tenant, or landlord a fair chance against the harsh UK weather. Using professional wet vacuum cleaning equipment, the experts will thoroughly remove all natural debris or hidden pests from your gutters and downpipes to help you avoid household disasters, such as:
Roof leaks and bad odours;
Insect infestations;
Cracks in your home's foundation;
Driveway or sidewalk damages;
Flooded landscape or basement;
Rotten wood and mould growth.
In addition, the cleaners can also assist you with other important gutter maintenance tasks:
Repair;
Lining;
Replacement;
Downpipes cleaning.
What Makes Our Services Stand Out?
Your gutters are situated high above the ground, so their cleaning usually comes with many risks to your property and your own personal safety. Our service is done with modern telescopic equipment that extends to the needed height and allows the technicians to remove all blockages from the safety of the ground. For your convenience and ease of mind, we've also introduced a number of extra benefits, such as:
1-month guarantee on all gutters+downpipes cleaning jobs and 6 months for repair;
Completely safe service – executed from ground level;
You will see before and after photos of the work done.
Great discounts for combining with gardening;
Professional regular maintenance session available upon request;
How Do We Perform The Gutter Clearing?
Our service is non-hourly based and the experts will remain for as long as needed to perform the job. When you first contact us to book a session, please tell us about:
Your home's type (terraced, semi-detached, or detached).
The approximate height of your building (in storeys) and what do you need us to do.
Can we access all of your roof drainage pipes from the ground?
If you have gutter guards or if your downpipes go below ground level
You will then receive a price estimate over the phone.
If the quote suits your pocket, the professionals will then arrive on the day of your appointment. They will bring an industrial vacuum cleaner with a 12-metre long telescopic pole, that can easily reach the third storey of any property. This machine is powerful enough to deal with fallen leaves, moss growth, and even pest nests in minutes' time. It also comes with a small camera that will allow the experts to properly inspect your gutters' interior and spot any small cracks that may need fixing. The same camera will also be used to provide you with before and after images, so you could easily tell if the specialists have done a proper job. While you're at it, you can take advantage of our discounts – simply order patio cleaning or gardening alongside and you will receive a neat price reduction.
Please keep in mind that the technicians cannot treat downpipes below the ground, nor gutters with guards.
Keep the Rain Drops Away from Your Home Today
There's no need to expose your property or garden to unnecessary danger. Instead, fill in our request a quote form or dial 01172 420001, and leave the rest to the diligent experts! You can schedule a session for any day of the week (bank holidays included) and request free of charge quotes at any given time, so go ahead and contact our advisers today!